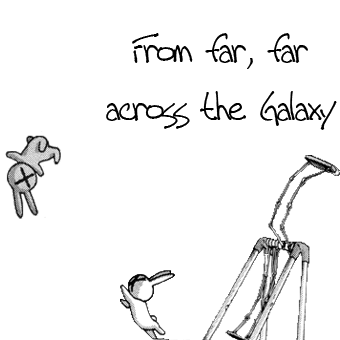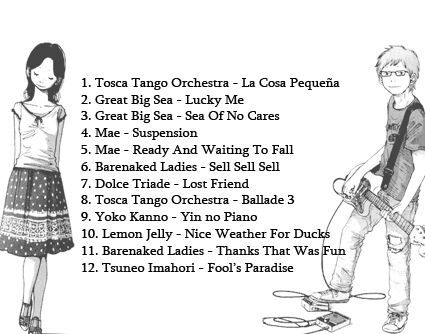 1. Tosca Tango Orchestra - La Cosa Pequeña This song, taken from the Waking Life soundtrack, here stands in the place of Meiko's working day. The simple piano line as she travels by train to the office, the sun peaking over the horizon...and then it slowly breaks out into a playful tune that represents her attitude towards her work: she doesn't take it very seriously, and goofs off as much as she can. Underscoring this central theme is a darker sound, similar and yet more sinister, which represents her boredom with the place and desire to leave. The piece gains urgency as it carries on, until at the end, the 'boredom' sound finally takes over altogether, which is the point at which she decides to quit.


2. Great Big Sea - Lucky Me When Meiko approaches Taneda with the idea of her quitting her job, his response is to tell her that if that's what she wants to do, then she should. No matter what happens, they still have each other, and they'll manage somehow. Although none of the scenarios described withing the lyrics directly apply to this scenario (admittedly, the last one is amusingly apt to Taneda's character), the general theme of the song, letting whatever happens happen and just treasuring what you have, certainly does, and you could very easily write a verse to fit the story.



But he says "Storms always fade after they've had their way,
They're never as bad as they seem."
As long as the rivers still run to the seas,
Hey Lucky You Lucky Me




3. Great Big Sea - Sea of No Cares (Rock Remix) Songs about boredom are surprisingly difficult to come by, and none of the ones I could find were at all appropriate for this series. However, boredom is a central part of the series, so I could hardly just disregard it. So, instead, I decided to focus on the positive aspects of Meiko's boredom: the freedom she found, and how much, directionless though it may be, she really did enjoy just being able to do what she wanted. WHen it wasn't boring her to tears, that is.



When you're in love, there's no time and no space,
There's a permanent smile on your face.
Your friends all complain that you're going insane,
But the truth is they're just afraid.

Hey somewhere,
you threw your fear in the Sea of No Cares.




4. Mae - Ready and Waiting To Fall When Meiko asks Taneda to get serious about his music, if that's what he really wants to do, Tanda take it all the way. He gets consumed by the practices and songwriting and throws his energy into it...energy that he previously wasted doing nothing at all.



I could feel something different from the first time.
Heaven made sense,
And all the words rhymed.
No chance in stopping now.
I'm taking it all...




5. Mae - Suspension Similar in purpose to the previous song, this also covers the time in which Taneda was actively pursuing his musical careen with Billy and Katou. This one is more specific to what that meant between Meiko and Taneda: first she demands that he be honest about what he wants to do, and then they both get caught up in it as the excitement grows.



Say anything, but say what you mean.
When you whisper you want this,
Your eyes tell the same.
We are gaining speed,
I can barely breathe,
'cause I'm caught in suspension.




6. Barenaked Ladies - Sell Sell Sell The story of Saeki is a sad one. Starting off his career as the lead singer in an underground band called Quooneldas, five years later he's "playing businessman in a suit and tie" at a record label, pushing the Japanese equivalent of Hillary Duff, Hannah Montana and other generic, forgettable garbage pop music. Although he's a very minor character in the story, I chose to include a song about him because his story is very important to Taneda's: he was one of Taneda's earliest musical influences, and as such really embodies a lot of Taneda's fears about where working life will take him. It's all too easy to look into Saeki's eyes and see himself, five years down the road.



He's branded like a racing car,
He's like a movie star without movies
The week of Independence Day,
The casting agent called to say
Your smile could save our movie and the world




7. Dolce Triade - Lost Friend All good things come to an end eventually. The first part of this song, taken from the Last Exile soundtrack, is the time from when Taneda says he thinks they should break up, and his five-day absence that followed. It's understated, yet mournful, and you can tell that something is...missing. The second part is his phone call to her, telling her where he's been. It's not quite happy, it has a similar feel as what came right before it, but it sounds hopeful, and that things will get better.


8. Tosca Tango Orchestra - Ballade 3 This song, taken from the Waking Life soundtrack, represents Taneda's sudden and unexpected death. Its minor, peaceful tune, carefully led by the piano and what sounds like an oboe, describes Taneda's final moments, lying on the pavement. Oh, he thought before he went, Look at the sky. It's so clear and blue.


9. Yoko Kanno - Yin no Piano This song, a quiet, and sad piano piece, stands in for the mourning that Meiko, and the rest of Taneda's friends and family, go through at the beginning of volume two. It's not slow, or simple, just as they all move on with their lives, rather than putting them on hold for a dead man, and express their loss in very complex ways.


10. Lemon Jelly - Nice Weather For Ducks At the end of every dark night must come the dawn. I've long prescribed this song for those feeling down, or angry, or unhappy; it's just so blamed happy that it seems to drive negative emotions away. As Meiko learns to play the guitar and plays with Katou and Billy, the soul-crushing weight of Taneda's death seems to slowly lighten from them-not go away altogether, but lessen, and more and more as time goes on. So too does this song become even more and more effective a ward against negative emotions as it proceeds. It repeats the same tune, but with added variations and instruments that make it seem to just increase in terms of feel-good exponentially.


11. Barenaked Ladies - Thanks That Was Fun The climax of the series is a concert by their band, which is as much a way of honoring Taneda's memory and a part of their grieving process as it is an expression of their love for music. For their final song, they play a song Taneda wrote, which they recorded and shopped around. It's the titular Solanin, and it's a song that at first sounds like a farewell between two lovers. When Meiko examines the lyrics closely after his death, however, she thinks that instead of that, it might be a song of farewell to one's past self: a goodbye to the student days, as one moves past it and into adulthood. This is the best real-world equivalent to that song I could think of. It's a farewell song, on the surface between two lovers, that could very easily be taken as something else. It has a strong beat and flow, but is also tinged with sadness.



I'm learning. I'm yearning.
I'm burning all your stuff,
But that's not enough.
I'm faking that I'm aching:
Mistaking lust for love.

Thanks, that was fun.
Don't forget, no regrets ('cept maybe one)




12. Tsuneo Imahori - Fool's Paradise Taken from the Trigun soundtrack, this piece (one of the most gorgeous guitar pieces I've ever heard) describes perfectly the final scene of the manga. There's been loss, there's been sorrow, and the piece of acknowledges that. But there's also hope. The future is bright. It's time to move on from what has been, and towards treasuring what you already have, and will gain in the future. That's what this manga's about. And if you listen, you can hear it reflected perfectly in the notes of this song.



"But...even if a time should come when I can no longer enjoy this scenery, as long as everyone is with me, I'll be fine. That's what I think today."



Mass download link.